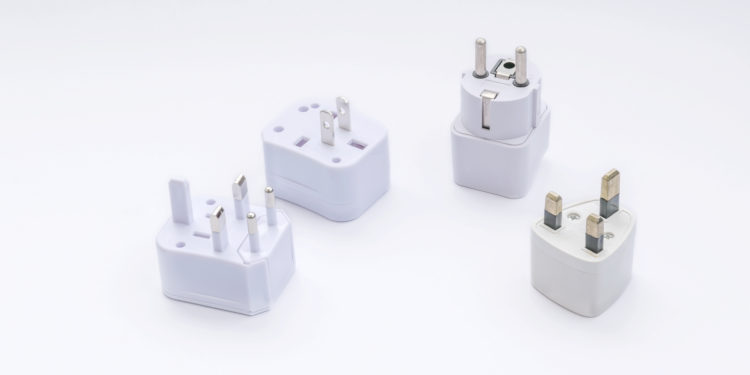 When you're traveling abroad with electronics there are two things you'll need to sort out in order to plug them in:
The physical shape of the plug that goes into the foreign wall socket
The power voltage that the wall socket sends to your electronics
↓ Skip directly down to our list of best voltage adapters
Depending on where you're traveling to, you may have to worry about only one of these problems. But in many foreign countries you may need to deal with both power voltage and the physical plugs in order to charge your cell phone, use a laptop, or hairdryer. The US, Canada, Mexico and some parts of Latin America use roughly the same voltage but in Europe, Africa, Asia and Australia you may need a travel power adapter to "step down" the power voltage for your electronics so you won't fry your gear. In this article we've gathered together all the information you need to choose the best foreign voltage converter for your upcoming trip.
Check out the following (simplified) voltage chart to see the difference between power voltage in the US and elsewhere:
| USA Voltage: | Elsewhere Voltage: |
| --- | --- |
| 120 V @ 60 Hz | 230 V @ 50 Hz |
As you can see, there's quite a difference between these and if you don't use a travel voltage converter, you might accidentally fry your electronics if you expose it to too much power.
First thing's first: you'll need to know whether the electronics you're traveling with will actually need a travel transformer or not. This is important because many modern electronic devices (especially expensive ones) will have voltage converters built in. To figure out whether or not your devices are covered, take a look on the bottom of the device's power charger and see if you can find any fine print about voltage. For example, here's the charging brick for an iPhone: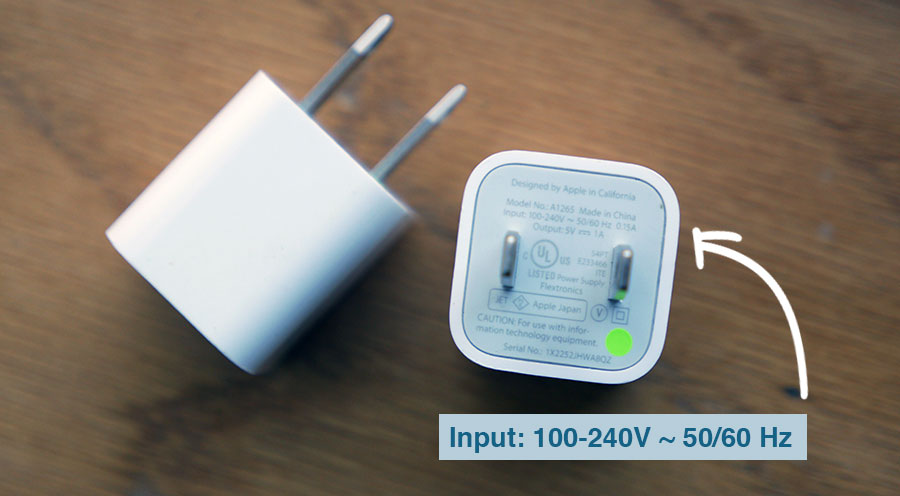 As you can see, it has a wide range of voltage and frequencies that it will work properly under. Because this charging brick lists both the US voltage/frequency (~120 volts @ 60 Hz) and European voltage frequencies (~ 230 V @ 50 Hz) it will be safe to use almost anywhere in the world without a travel voltage converter (though it may still need a separate travel plug adapter to physically fit into a foreign wall socket). Many but not all electronics are like this these days.
If, after examining your travel electronics closely you discover you'll still need a European voltage adapter (or voltage adapter for travel somewhere else in the world), we've gathered together the best of them for you in the following list.
The best travel power converters & travel power adapters: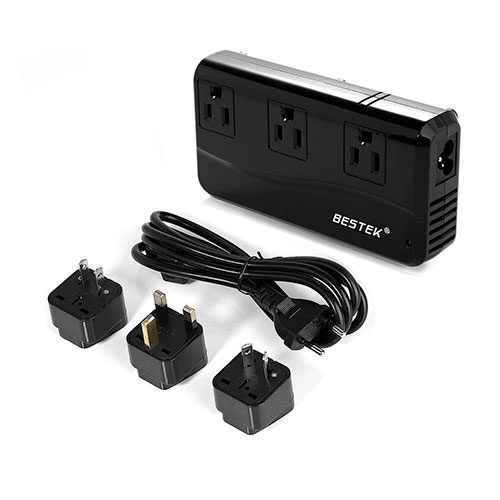 Bestek 4-Port USB Power Converter 220V to 110V Travel Voltage Converter with International UK/EU/AU Adapter Plugs
This travel power converter comes with a set of plug adapters which allows you to adapt it to whichever country you're in (or at least as long as you're going to Europe, the UK, Australia, or some parts of Asia that use the three plug shapes that are included in this kit).
It provides you with three standard US shape plugs for your electric devices as well as four USB ports for charging a cell phone, iPad or other USB powered device (allowing you to plug in up to 7 items simultaneously). One nice feature of this foreign voltage converter is that it is actually a power strip with a 5 foot long extension cable, meaning that if you're using it in a hotel room with inconveniently located power outlets, you will have flexible placement options within the room.
The Bestek 4-port USB power converter comes in either black or white versions.
Article continues below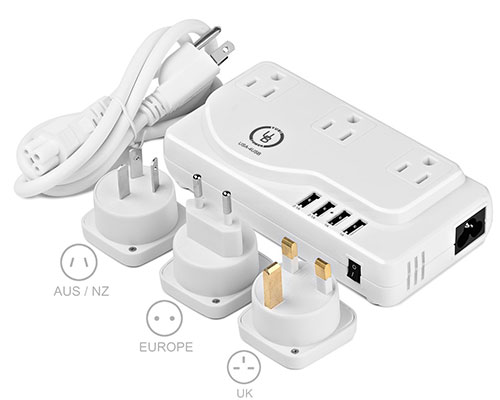 Universal World Travel Adapter and Converter – 220V to 110V Transformer
Here's another good travel voltage converter which can help you "step up" or "step down" to the local power voltage in the country you will be visiting. It is compact and plugs directly into the wall to provide you with a three prong standard US power outlet which will work in virtually any country. This travel transformer includes four different plug accessories: one for Europe, one for Australia/New Zealand/China, one for the United Kingdom (England, Scotland, Wales) and another for the USA. It works with hairdryers, curling irons, laptops, phone chargers and more.
Another thing that makes this one of the best travel voltage converters is that it includes four USB ports, allowing you to plug in your cell phone, tablet or other devices that charge via USB such as some cameras.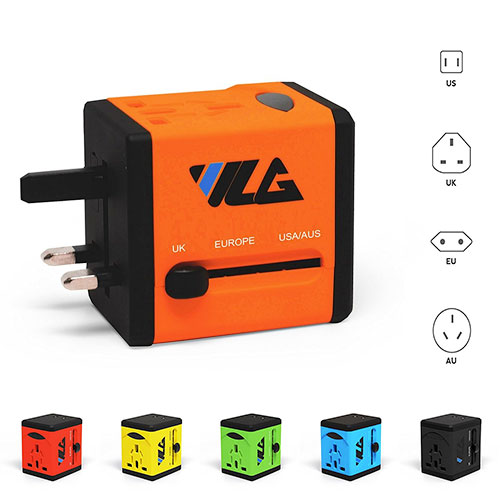 VLG Colorful Travel Adapter & Charter With USB Ports
If you're anything like us, when you leave a hotel room to check out you do several paranoid double checks to make sure you're not leaving anything behind. With a travel voltage adapter as bright as this one, you'll never be afraid that you might have missed it or left it behind. This is one of the best travel voltage converters we've found and it comes in six different colors. This charger gives you one standard US power socket to plug your devices (or a power strip) into, as well as two USB ports. It's small and light, weighing only a few ounces. (Note: this may not provide enough power for a hair dryer.)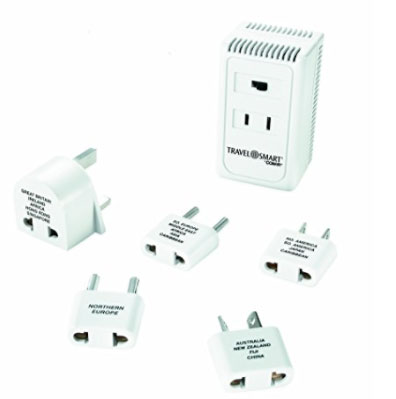 Travel Smart by Conair 1875-Watt Converter with High/Low Selector Switch
Here's another one of the best travel power converters. It measures just three and a half inches tall and converts power from virtually anywhere around the world to the normal US voltage and frequency. It also has a high/low switch for devices that need high amounts of wattage (like hair dryers).
This travel power adapter also comes with five different swappable plug heads which let you plug into a wall socket nearly anywhere. And the replacement socket plugs have regions and countries labelled on them, which is a nice touch so you don't have to look up online which specific adapter to take with you before you pack.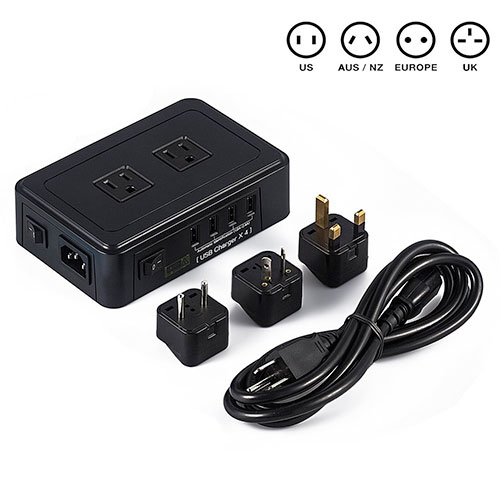 Universal Travel Power Strip Power Adapter With 2 AC Sockets And 4 Smart USB Charge Ports
This universal travel power adapter gives you two standard US sized power sockets as well as four USB charging ports for devices like phones, tablets or other USB charging electronics. It can offer up to 2500 watts of power, enough for even the most power-hungry hair dryer or other device.
The Universal Travel Power Strip is able to charge up to six devices at once and provides a cable several feet long. It comes with three interchangeable international plug converters to connect directly to wall sockets in European countries, the UK and some Asian countries.
Frequently Asked Questions about travel power adapters and foreign voltage converters
Will every adapter on this list work with a hair dryer?
No. Some of the smaller travel transformers don't offer enough wattage for a power-hungry hair dryer so if you have a large hair dryer you need to convert to US power voltage, we recommend something like the last product on this list that provides up to 2500 watts of power.
Do I need a power voltage converter for my laptop? Do I need a travel power converter for my cell phone?
Most modern laptops like Macbooks and phones like iPhones have built in automatic voltage switchers in their normal power chargers or power bricks. If the device says in fine print something like: "Input: 100-240V ~50/60 Hz" then you should be able to use it virtually anywhere in the world without a travel voltage converter. Note that you might still need to buy a travel plug adapter to physically plug the power cable into the wall socket, depending on which country you're in.
Will these travel power adapters work in every country?
Pretty much, unless you run into electrical wiring in a building that is not "up to code" in the country it's in. The range of power voltage that the devices in this article cover will be appropriate for just about every country in the world. You can learn more about the different power voltages used in various countries on Wikipedia.