Power strips with flat plugs are extremely helpful when you need to plug into an outlet and the amount of room you have for the plug to stick out from the wall is contained, due to furniture, or some other reason. Flat plug power strips can help save you from bent cords or needing to arrange the furniture in a room based off of where the power outlets are, instead of where you really want things to go.
Here are some of the best power adapters with flat plugs:
Belkin 6-Outlet Flat Plug Power Adapter/Surge Protector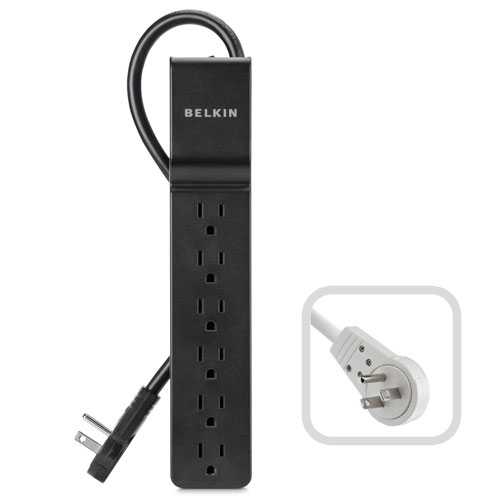 This is a basic surge protecting power strip with a very flat slimline plug, allowing you to back furniture like bookcases or couches right up against it. It features six outlets and comes in black. The power cable itself measures about 6 feet long (though you can't see it in the product photo). The plug itself also features a rotating prong setup, meaning it's mounted on a swivel wheel and you can twist it to any angle to plug this flat plug power adapter at any angle so the cable goes up, down, sideways or any angle you like. There's also an 8 foot white version of the same flat plug power adapter.
NTONPOWER Travel Power Strip with AC & USB
Many hotels now offer a bedside power outlet (sometimes built into a lamp), but one power outlet is hardly ever enough to charge you and your travel mates' devices overnight. So a power strip is a great accessory to travel with. And a folding travel power strip can be very useful when space is at a premium in suitcases.
This is a compact travel power strip with a flat plug that plugs into itself when not in use so its cable does not get in the way of your clothes in your suitcase. It has two traditional power outlets and three USB ports for charging phones and tablets. The cable is short: it only measures about 15 inches long, but that's enough to multiply the number of available outlets in a room (especially on top of a bedside stand) to charge all your electronic devices.
Available in white and black.
Ultra Low Profile Angle Flat Plug Power Adapter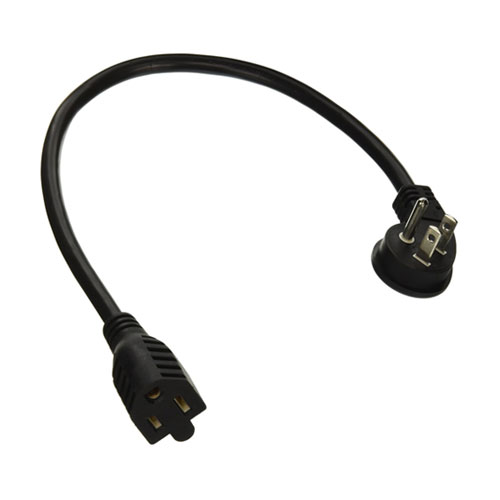 Sometimes instead of a full power strip with multiple outlets, all you need is a single flat plug power adapter for a single device. For those times, this ultra low profile angle power adapter is the right tool for the job. It measures about a foot in length and provides a single outlet, freed from the constraints of the wall. This product also comes in a three pack with rotating plug heads with a power cable extender that measures 18 inches long.
QVS 3-Prong Outlet Saver Splitter Power Adapter with 90 Degree Flat Plug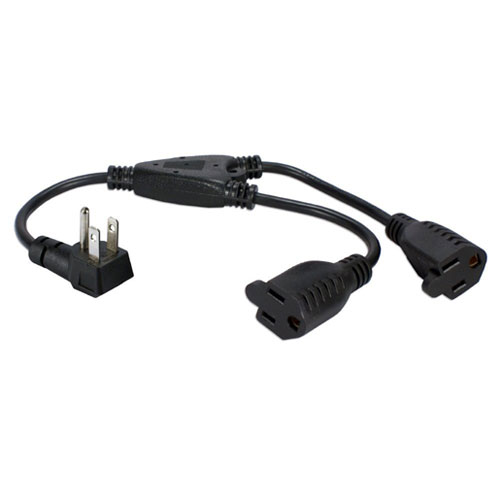 This flat plug power splitter is similar to the last one because it isn't a full power strip itself. But instead of offering a single power outlet, it's a splitter offering two power outlets instead of one, that both plug into the wall with a low profile flag plug. This is a two pack of identical power splitters with flat plugs that reaches 16 inches away from your power outlet on the wall.
Bestek 12-Outlet Surge Protector Power Strip With Flat Rotating Plug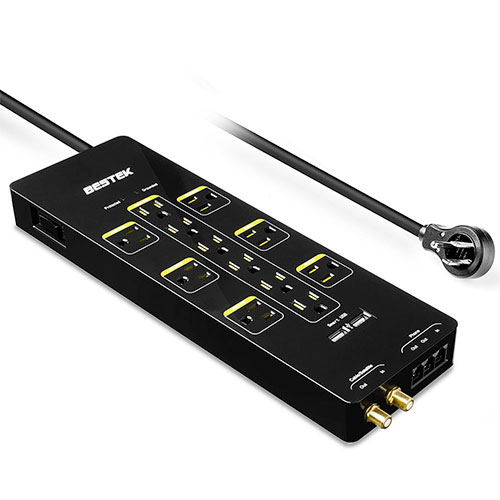 If you need a power strip with a flat plug and a ton of outlets, the very well-reviewed Bestek 12 outlet surge protector power strip might be a great choice. It features a flat plug that can easily squeeze behind a desk, sofa or entertainment center, and it rotates so it doesn't matter which angle you plug it in at, and you can fit it into even tight spaces. This power strip also has a few other bells and whistles: two USB outlets for charging your cell phones or tablets, and even grounded phone lines and a coaxial cable/satellite hookup. These features plus surge protection make this the ideal power strip for home theater systems. The cord that plugs into the wall is 6 feet long, and is a heavy duty cable with enough juice to power your television, cable box, stereo, and other devices. Plus, with the layout of the outlets on this power strip (facing three different directions) you'll be able to plug in several devices that have bulky AC adapters ("wall warts") at once, unlike some other power strips which place all the outlets next to each other in a row.
Factors to Consider when choosing a power strip with flat plug
How flat the plug actually is – This one is pretty obvious but if you have an exceptionally tight space that you need to plug a power strip into, you'll want to measure just how much space you have.
The length of the cord part of the power strip – Equally important is measuring to make sure that the power cord any power strip you choose will actually be long enough to reach where you need it to go, and presumably since you need a power strip with a flat plug, space is already at a premium. Make sure that it's long enough to reach to where you need it to go.
Color – In some cases having a certain color power strip may be jarring or eye-catching in an unwanted manner, so you'll want to make sure you get the correct color power strip with a flat plug. Several of the power strips with flat plugs mentioned in this list come in both black and white versions. Click through each one to check to see if it's available in the color you prefer.