With Thunderbolt to HDMI adapters, you can connect a computer with a Mini Displayport or Thunderbolt port to an external monitor that uses the common HDMI standard. As far as external monitors are concerned, Mini Displayport and Thunderbolt are two different names for the same type of port, so you will see them used interchangably in this article.
Example uses for Thunderbolt & Mini Displayport to HDMI adapters and converters:
Apple laptops such as the Macbook have Mini Displayport ports, also known as Thunderbolt ports, to which you can attach an external display, TV or monitor with an HDMI input. You could also use this Thunderbolt to HDMI adapter to connect to certain projectors that have HDMI inputs.
The Best Thunderbolt & Mini Displayport to HDMI adapters:
VicTec Mini DisplayPort Thunderbolt To DVI VGA HDMI TV Adapter Cable 3 in1 for MacBook iMac Surface Pro Surface Pro 3 ThinkPad X1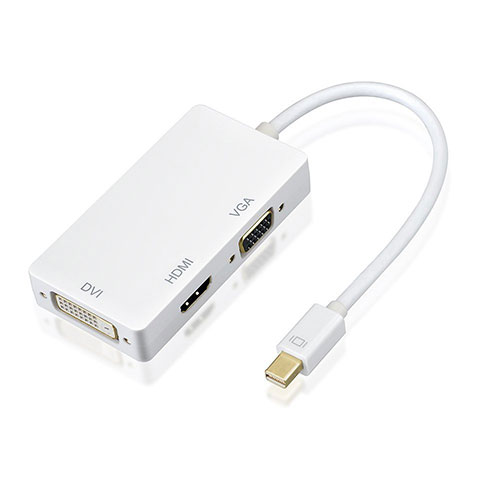 This Mini Displayport/Thunderbolt to HDMI adapter has three outputs: HDMI, DVI and VGA (all three computer video standards), allowing you to connect to virtually any monitor. Note that since this is a converter, you'll also need an HDMI cable, VGA cable, or DVI cable to connect to the external display device itself.
Cable Matters Gold Plated Mini DisplayPort Thunderbolt Compatible to HDTV Cable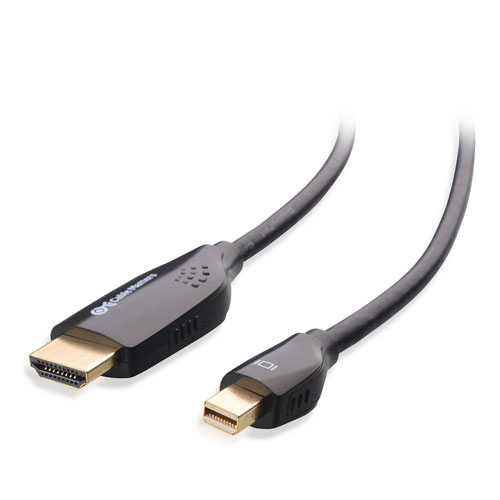 This Mini Displayport/Thunderbolt to HDMI cable is black and measures 6 feet in length (lengths up to 25 feet are also available). One end of the cable is HDMI, the other end is Mini Displayport/Thunderbolt. This means you will not need an extra HDMI cable, but if you already have an HDMI cable of the correct length, you may wish instead to get a dedicated Mini Displayport to HDMI converter, like the next item in this list.
AmazonBasics Mini DisplayPort (Thunderbolt) to HDMI Adapter for Apple iMac and MacBook (L51G)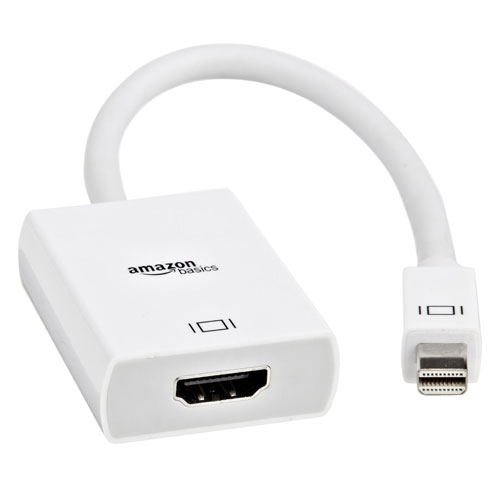 This is an adapter to convert the Mini Displayport/Thunderbolt output from your computer to an HDMI signal which you can plug an HDMI cable into to connect to a television, video projector or external display. It does not include the HDMI cable, which you will need to supply yourself.
IDMIX Mini Displayport to HDMI Adapter Gold Plated Thunderbolt to HDMI Converter (Male to Female) for Apple MacBook/ Air/ Pro/Mini/ iMac/ Mac Pro (White)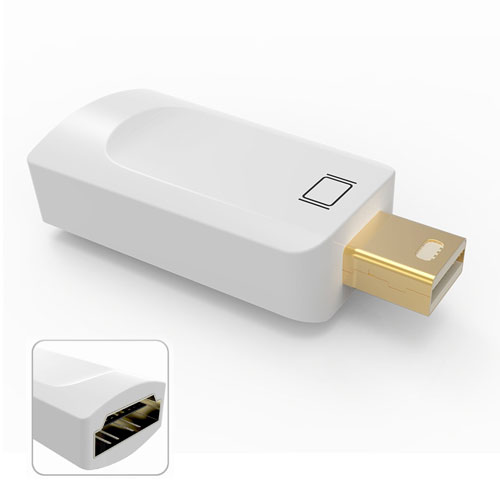 Although at a casual glance this item looks like a normal USB stick, it's actually a Mini Displayport to HDMI adapter. It plugs into the Thunderbolt port on your computer and converts it to an HDMI port. For those looking to minimize the number of cables they travel with, this stick style adapter can be a great option (however it of course isn't flexible if you need your converter to be used at a 90 degree angle because of space concerns for instance).