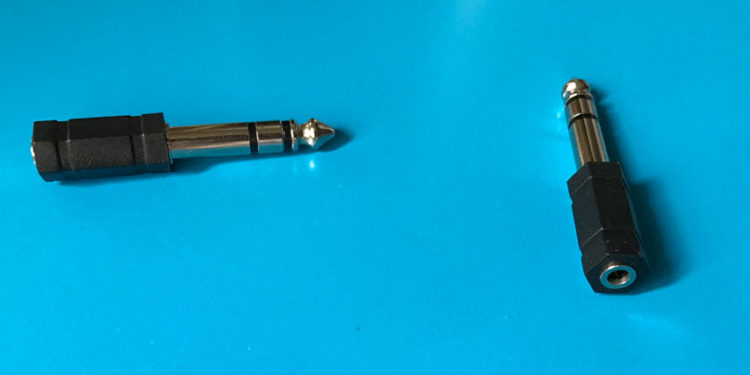 1/8th inch to Quarter inch headphone adapters allow you to plug in your normal headphones with their small standard 1/8th inch jack (3.5mm) into a stereo headphone port that's a quarter-inch wide (6.35mm). The larger stereo jack used to be standard years ago but the smaller headphone port has replaced it and is much more common these days with headphone manufacturers. This is particularly useful when you need to plug in a normal pair of headphones into an older or large audio device, for instance, a stereo receiver, that only has a 1/4th inch audio jack. (Note: the opposite adapter exists too: a 1/8th to 1/4th inch stereo adapter.)
Here are some of the best 1/8th inch to 1/4th inch audio jacks:
Adapter 1/4″ (6.3mm) Male to 1/8″ (3.5mm) Adapter Plug Female to male
If you're just looking for a basic "small headphone to big headphone jack" adapter, this is probably the right one for you.
This eighth inch to quarter inch audio adapter allows you to plug in a normal pair of headphones with a standard 3.5mm stereo plug into a female port and supplies you with a 1/4th inch stereo TRS headphone jack on the opposite end (TRS stands for Tip, Ring, Sleeve, which is the term for all of these types of audio jacks). This particular model has a textured grip surface that makes it easy to unscrew when you're done using it, which is convenient.
---
3.5mm Stereo Jack to 1/4″ Plug Right Angle Adapter
In some circumstances, space might be cramped and you want a right angle 1/8th inch to 1/4th inch headphone jack adapter. For instance, if you're plugging a pair of headphones into the back of a stereo which is then placed against a wall. Or perhaps your stereo system is close to the ground but your headphones will be in use several feet above it and you don't want to stress the cable cuff and risk wearing it out. In those cases, a right angle 3.5mm to 6.3mm stereo audio cable converter is a good choice.
---
4inch 3.5mm Stereo Female to 1/4inch (6.35mm) Professional Premium Grade Stereo Right Angle Plug Audio Adapter
In other circumstances, a 1/8th inch normal headphone cable to quarter-inch cable that's fully flexible is more useful, such as when you need to plug in your headphones or another audio accessory into a device at an awkward angle or when it's directly up against the wall (or up against the back of an entertainment center) and there's no space to plug in your cable at a right angle.
This four-inch-long audio jack adapter will work in these scenarios where you need a custom angle, and it has a generously sized textured grip to unscrew your headphones when you're done using them with this stereo quarter-inch adapter.
---
Hosa MHE325 Female TRS 1/8-Inch to Male TRS 1/4-Inch Headphone Adapter Cable, 25-Feet
Need an even longer 1/8 inch male to 1/4 inch stereo headphone adapter cable? If you need a 1/8th inch to 1/4 inch adapter and you also need a nice, long headphone cable extender too, here's the adapter for you. This 25 foot long cable will convert your normal stereo headphones with the smaller TRS (tip, ring sleeve) plug into a pair of headphones with the older 1/4th inch jack that you can use to plug into full-size stereo receivers and other devices that require it. Comes with a black cord.
---
FosPower 6.35mm (1/4″) Male to 3.5mm (1/8″) Female 3-Conductor TRS AUX Stereo Audio Headphone Jack Adapter – 24K Gold Plated (3 Pack)
If you need multiple 1/8 inch TRS headphone jack to 1/4 inch jacks, this three pack might come in handy. It's also available as a 5 pack and if you really need a lot of them you can buy 20 of them in a pack together.
---
Factors to consider when choosing a 1/8th inch to 1/4 inch headphone jack adapters
Do I need a cable or a straight adapter? Some of these adapters include a cable of varying lengths, but others are simple straight barrel adapters that convert 1/8th inch tip ring sleeve (TRS) to quarter inch headphones jack.
Do I need a right-angle adapter? Sometimes when you're converting audio in a cramped environment or need to plug in a cable to the back of a device like an audio receiver, a right-angle adapter is especially helpful. Some of these 1/8″ to 1/4″ adapters have a right-angle plug for just this purpose.
Do I need a grip on the adapter? Some adapters have grips or textured areas on their plugs to make them easier to unplug. This is especially useful when you're frequently plugging and unplugging audio cables often and as it can save time. Not all 1/8th inch to 1/4th inch adapters have these grips however so if that's important to you you'll want to make sure you pay attention to the grip size on the adapter you choose.