Using a clip on microphone can dramatically improve the quality of any video because 9 times out of 10, it will provide higher quality audio than the built in microphone in your phone, tablet, computer or camera that you're recording video with. Clip on microphones work by providing an omni-directional microphone (often protected by a windscreen) which is close to your voice, and is connected to your recording device with a cable of various lengths.
Best Clip on Microphone for iPhones & Android Phones or iPads, or Cameras
Clip on microphones plug into your phone's headphone jack (or your computer's headphone port, or your camera's 3.5 inch microphone port) and clip on to your shirt or jacket. We recommend avoiding the cheapest clip on mics because they are generally poor quality. So instead, here are some of the top reviewed clip on mics for phones:
Good: DurbPro 15 Foot Long Clip on Omni-directional Lapel Microphone for Smartphones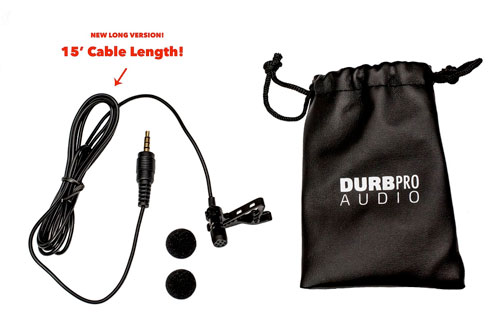 DurbPro offers an affordable clip on microphone for iPhone/Android/iPad with a 15 foot long cable. It's well reviewed and will capture good quality audio when you record video on your phone or tablet device. On one end of the cable is a lapel microphone which you can clip to a shirt or tie, and on the other end is a normal 1/8th inch jack which will plug into your phone's headphone jack.
It also comes with a carrying pouch (handy for a microphone with a 15 foot long cable!) and two fuzzy windshields which can be used to cut down wind noise when you're recording outside.
Article continues below
Better: Stony-Edge Lav-Mobile Condenser Lavalier/Lapel Microphone for iPhone & Android Smartphones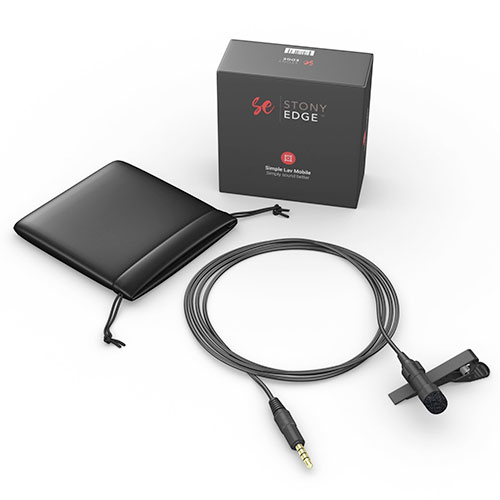 The Stony-Edge Lav-Mobile microphone (that's a bit of a mouthful to say!) is a great quality clip on microphone that works with your smartphone to capture crisp and clean audio. It comes with an 8 foot long black cable, a carrying pouch and a foam windscreen which for use outdoors to cut down on wind noise. It also comes with a velcro cord strap so you can keep the cable coiled when you're not using it. This model has gotten great reviews from hundreds of users.
Best: Shure MVL Omnidirectional Condenser Lavalier Microphone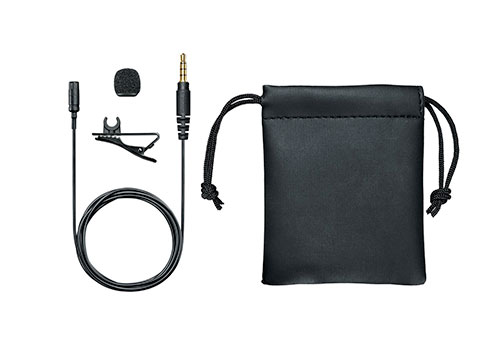 Shure is an internationally recognized brand that makes high quality microphones for all sort sof uses, both professional and consumer. Their MVL clip on microphone works with your smartphone to capture exceptional sound quality. The cable plugs into your headphone jack on one end and has a genuine Shure microphone at the other end, along with a detachable clip to fasten to your shirt, jacket or tie. It also comes with a carrying pouch and a foam windscreen. One thing that sets this microphone apart from some of its competitors is that it has an especially good signal-to-noise ratio which means that your voice will be captured as you speak but background sounds (like wind, air conditioning, etc) will be much quieter than they would be on comparable microphones.
Bonus: MXL MM160 Lavalier Microphone for Smartphones and Tablets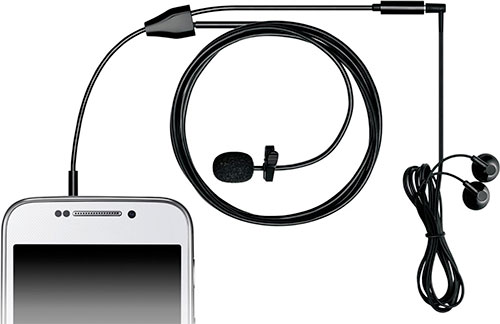 This MXL clip on mic offers a unique feature that sets it apart from many of the other clip microphones for sale: it has an extra port which you can plug your headphones into. How does this work? Say you want to be able to record a friend talking on your smartphone or camera and you want to be able to monitor their voice levels at the same time. Most clip-on microphones don't allow you to do this since they use your camera or phone's headphone jack to plug in to. But this mic allows you to plug your own headphones directly into its additional port so you can record and listen at the same time. Not everyone will need this feature which is why we are putting it on this list as a bonus item, but for those that do, it's extremely handy to have this option. The MXL MM160 is very well reviewed and delivers great quality audio.
Frequently asked questions about clip on microphones:
Do clip on mics use batteries? How are they powered?
While some clip-on microphones use batteries, the ones we've linked to in this article are instead powered by your phone or other type of device (tablet, video camera, etc). This uses a small amount of the your camera's power but keeps the size and weight of the microphone small and light so we think it's generally a good trade-off. The amount of power these draw is very small compared to the size of your phone's battery capacity.
Where should I clip on my microphone on a person's body?
Ideally you want to clip on the microphone no further than about ten inches away from their mouth. The further away you clip it from their mouth, the weaker the sound quality will be and the more background noise you will pick up in your audio recording. If you clip the microphone too close to their mouth, you may get over an modulated recording that sounds distorted. Common lavalier mounting techniques include: clipping the microphone to a person's shirt collar if they are wearing a non-collared shirt like a t-shirt, clipping the lav relatively high up on a man's tie.
A frequent mistake that inexperienced lavalier mic users make is failing to hide the cable underneath the speaker's shirt. Often it can seem awkward to ask them to thread the cable through their shirt or underneath it, but it looks super amateurish to have a big black cable dangling in the middle of your shot if you're filming an interview. Of course, if you're only using the lavalier for sound purposes and you won't be filming the person speaking, then it's fine not to hide the cable. In cases when you do need to hide the cable, we've found that the easiest way to do it is to ask the person to drop the end with the plug down the front of their shirt and hold on to the microphone. Once you clip the mic to their collar and then you're free to plug the microphone in to your recording device, like an iPhone or other type of camera.
Is a clip on microphone the same thing as a lavalier or lapel microphone?
Yes! These are all different names for the same thing. Sometimes a clip on mics are called lavalier microphones or lapel microphones.
Related:
Best Wireless Lavaliere Microphones for Documentary Film
The Best Wireless Lavalier Microphones For DSLR Cameras