With more and more devices charging via USB ports these days– like phones, tablets, and more– it's handy to have extra USB ports around the house. Wall plug USB power adapters can be quite handy to solve this problem, providing USB ports directly plugged into your power outlets no matter where they are– no computer needed.
Example uses for USB outlet power adapters:
For instance, you might want to charge your iPhone or iPad in the kitchen with a charging brick dedicated just to that location so you don't have to move it. Or, you might want a travel charging adapter that uses only one outlet but provides you with many USB ports so multiple devices can charge at once.
If you have a newer USB C charging cable you will need a USB C wall charger plug.
The best USB wall plug power adapters:
iSelector Single-Outlet Wall Mount Travel Charger Adapter Power Strip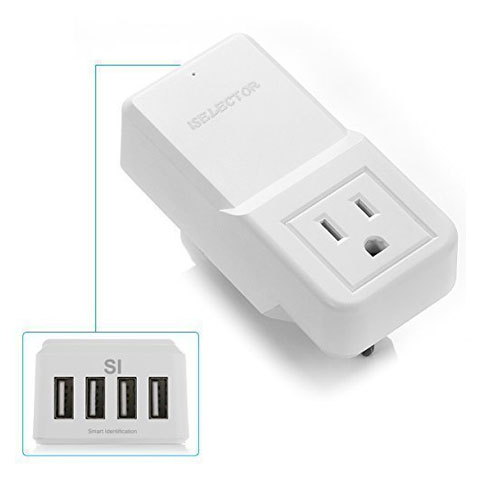 This power strip plugs into a single wall power outlet and provides you with both a replacement plug for the one you're losing and a total of four USB ports on the bottom of the device. While this USB power strip is available in white, a similar adapter is also available in black.
Replacement iPhone USB Wall Charger
If you have an iPhone you'll probably recognize this power adapter. While it's designed to look like a standard iPhone USB wall charger, it will actually work with any USB charging device– including Android phones, tablets, or other devices. It also has a bonus: each plug features two USB ports, so you can charge two devices at once. This kit includes two USB wall chargers for iPhones or Android phones or any other device that charges via USB outlets. With two plugs it's easy to throw one in a purse or backpack and leave the other strategically plugged in next to your nightstand or elsewhere around your house or office.
Vogek 6-Port USB Charger Desktop Charging Station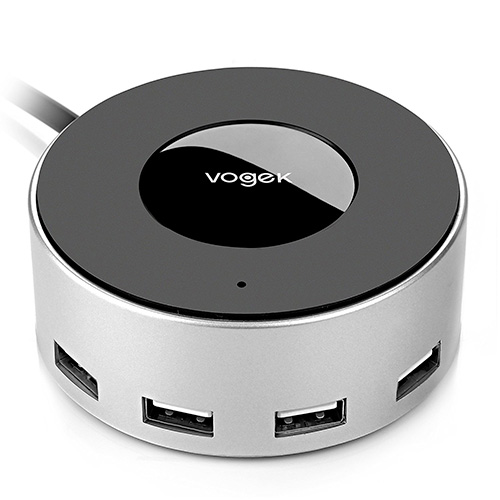 Here's another 6-port USB wall charging station that provides power to all your devices at once. This one is especially handy if you prefer to have your devices charging on a table or desk instead of tethered to the wall (it has a 4 and a half foot power cable). Compatible with iPhones, Android devices, many cameras and anything else that charges via USB power.
This white USB power adapter features six USB ports plugged into a power strip with a cord that measures 5 feet long (1.5 meters). The cable is long enough to reach from a power outlet to rest on a desk for instance. It also features an on/off switch to save power when not in use. It provides 5 volts of power to each device.
Compatible with most USB charging devices, like iPhones, tablets, digital cameras, and computer accessories, this is perfect for traveling or using in the office.
8 Socket USB Charging Station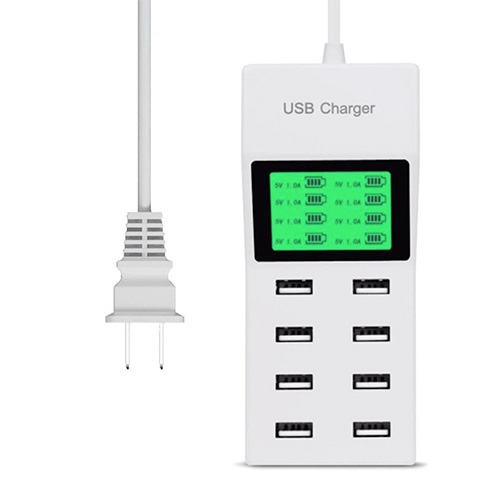 Need more than 6 USB ports at a time? If you've got a bunch of devices that charge via USB like cell phones, tablets, cameras, and other items, this USB wall charging station might be perfect. It has 8 USB sockets and has an approximately 6-inch power cable and features a display that shows the status of each socket (charging or not).
Anker 24W Dual USB Wall Charger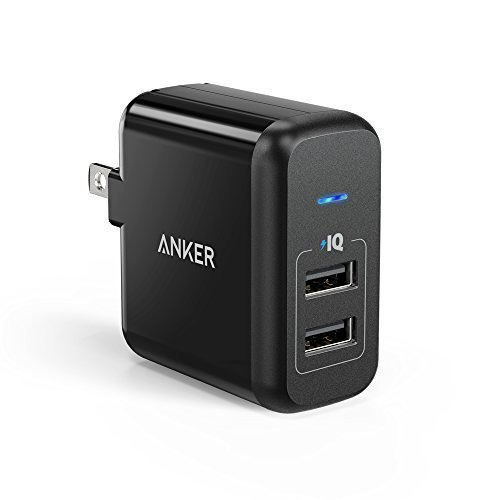 Some devices are more power-hungry than others. For instance, if you've ever tried to charge an iPad or other tablet using a normal USB cell phone charger, you've probably noticed that it takes approximately forever to charge. That's because cell phone chargers and many other USB chargers are only capable of providing about 7.5 watts of power. This super-charged Anker USB wall charger provides 24 watts of power to each outlet meaning you can charge two iPads or similarly power hungry devices at the same time at full speed.
Available in black and white.
Wall Power Outlet with USB Ports Built In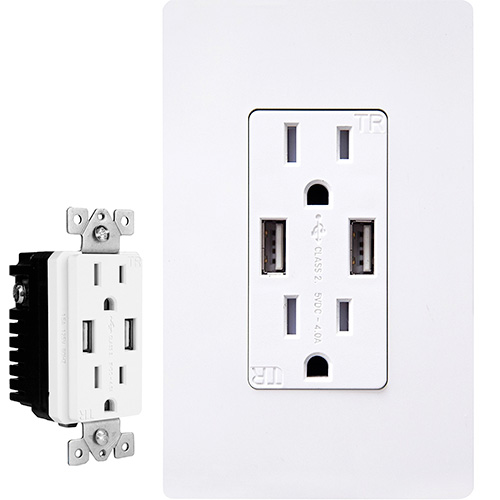 Do you constantly find yourself searching for a USB charging brick but never able to find one when you need to charge your phone? Installing this wall outlet with 2 USB charging ports built-in might be the perfect solution for you. With a screwdriver, you can replace an existing wall outlet in your home to replace it with this wall outlet plate with USB charging ports built-in.
Factors to consider when choosing a USB wall charging outlet
Power cord length – Some USB power chargers plug directly into the wall and others have a long or a short power cord so your devices don't have to be plugged in directly to the wall. Some use cases may obviously call for one type versus the other.
Voltage – If you're planning to charge iPads or other devices that are especially power-hungry you may want to opt for a high voltage charger like the black Anker brick charger mentioned above, which can provide full charging power and charge your devices faster. Note that this won't change the speed that your cell phones or other normal devices charge because they won't suck up as much power as tablets will.
Number of outlets – Some people only have one or two devices but others have many that often need to be charged at once. How many USB devices you anticipate needing to charge will obviously be an important factor in choosing which USB charging station you pick.
Color – Several of the USB charging bricks and USB power stations in this article come in multiple colors with the most common being black versions and white versions. In certain cases, you may prefer white charging outlets if they blend in with your decor, and in other cases, you may want dark-colored ones that won't be distracting in a darker environment.