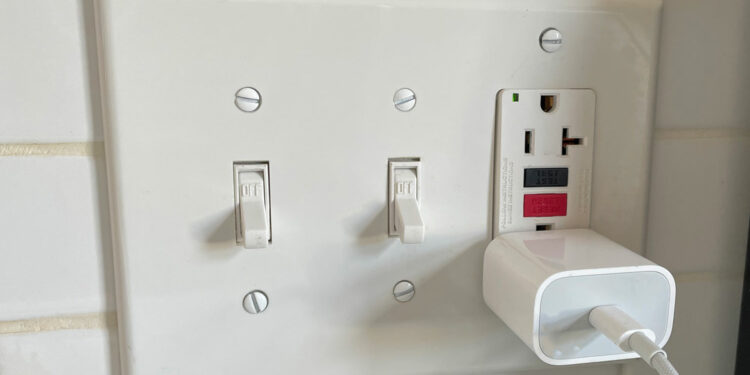 If you need a replacement wall charger for your smartphone or you recently bought a new iPhone that didn't come with a charging brick, we've got you covered. These are the best wall power adapters for USB C charging cables. These work with USB C to lightning cables for Apple devices and other USC C charging cables.
Looking for a charging brick for an older USB charging cable? Check out the best USB A wall chargers.
Apple 20W USB-C Power Adapter
If you're brand loyal to Apple, this is the wall charger for you to charge your iPhone or iPad. This 20W charger allows faster charging (up to 50% in 20 minutes and 100% in just over two hours–learn more) in the newer iPhone 12 & 13. Pair it with the USB C to lightning cable that came with your phone and you're ready to go.
---
Anker USB C 20W Charger
If you want a 20W charger but don't want to buy an Apple brick, this is an excellent alternative. This 20W charger offers the same fast charging in a 50% smaller-sized wall adapter, so it's more convenient to carry in your purse or pocket.
Available in black, white, lavender gray, and mint green colors. 18 month warranty.
---
USB C Dual Wall Charger
If you own an iPhone and an iPad, a dual wall charger like this allows you to charge both devices at once without taking up two outlets. This AC adapter is 40W, allowing for 20W fast charging from each port for smartphones and tablets. If you use only one port, it can provide up to 30W charging, which can be used for Macbook air, iPad Pro, and Pixel 6 Pro.
24 month warranty.
---
USB C & USB A 4 Port Wall Charger
If you have a mixture of chargers and devices, this charging brick is the best of both worlds. This charger features two of the older style USB A ports and two USB C ports. The device can deliver a max of 100W, with 45W via USB C and 18W via USB A. This charger is perfect for traveling, the plug is foldable and it includes an EU and UK plug adapter for European travel.
Available in black and white.
---
Don't forget to pick up a USB C to Lightning charging cable to go with your new wall charger.
If you have an older charging cable, you will need a USB A Wall Charging Brick.