USB-C to HDMI port adapters allow you to connect your laptop or other device with USB C outputs to an external display with an HDMI input, like a monitor, video projector, or television with HDMI ports.
Example uses for USB C to HDMI Adapters and Converters
You might want a simple way to connect your laptop (like a new Macbook that only has a single USB-C port) to your TV, which has an HDMI port. You can use a USB Type C to HDMI adapter to help bridge that gap.
The Best USB Type C to HDMI Adapters and Converters
Apple USB-C Digital AV Multiport Adapter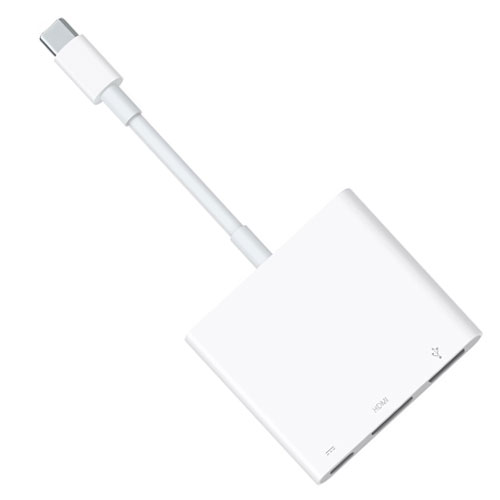 Apple makes a USBC to HDMI port adapter for Macbooks that supplies you with three different ports: An additional USB Type C port for charging, an HDMI port, and a normal USB Type A port. This is especially handy if you plan on needing to charge your new Macbook while you use the HDMI output at the same time. Note that you'll still need an HDMI cable of the appropriate length if you choose this adapter.
QGeeM USB C to HDMI Adapter 4K Cable
This simple USB C to HDMI adapter provides you with one HDMI port that plugs into your USB-C port. It's Thunderbolt 3 compatible, perfect for sharing your screen for work presentations or watching movies on your HD TV at home.
It doesn't include an HDMI cable so you'll need to get one separately or bring your own. This adapter is an affordable and compact option for connecting USB C to HDMI.
CableCreation 10FT USB Type C to HDMI Cable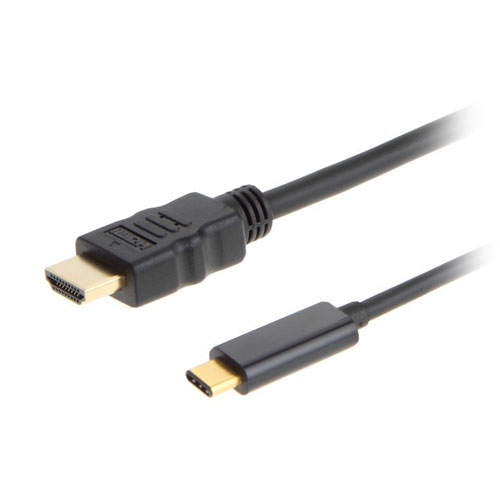 This USB-C to HDMI cable is an all in one solution to connect your laptop or computer to a television, projector or second monitor with HDMI input. It doesn't need an additional HDMI cable; instead, this is a male to male cable that connects directly to your HDMI device. The supplied cable is 10 feet long.
If you frequently give presentations at work that require connecting to a television or projector via HDMI cable, make sure to have one of these cables in your bag.
Cable Matters USB-C to HDMI / VGA / Ethernet / USB Multiport 4K UHD Adapter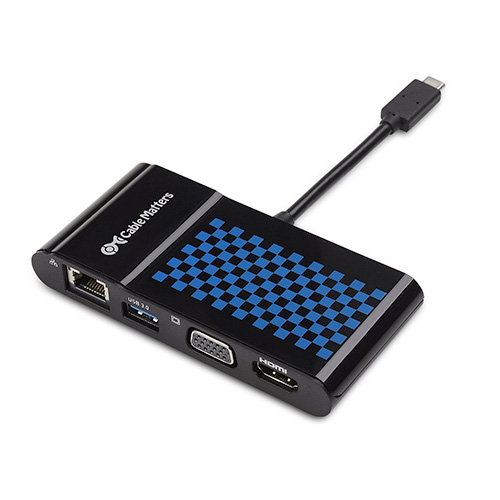 This USB C dongle adapts the USB C port on your laptop to an HDMI port for video out, a USB Type A port for legacy devices like plug-in keyboards and mice or scanners, an Ethernet port for networking and a VGA port to connect to legacy displays or projectors. Wow, that's a lot! Supports 4K video output via HDMI if you have a 4K monitor that you're planning on using with your laptop. Compatible with Macbooks, Dell XPS Alienware and Dell Precision laptops.
USB-C Hub, HDMI Output 3.1 Type-C Hub with Power Delivery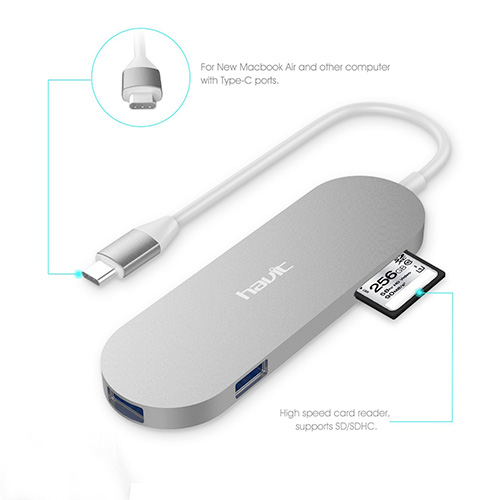 This is just about the most impressive USB-C adapter dongle we've seen so far. It converts a single USB C port on your laptop to 3 superfast USB 3.0 type A ports, one HDMI output port, a USB C port for charging and even an SD card slot to read media cards from cameras and other devices. That's a quite a lot! It's also designed in silver to match the look and feel of new Macbooks and Chromebook Pixels. Note that although this USB Type C to HDMI adapter supports 4K video it only does 4K up to 30Hz meaning its refresh rate may be a bit delayed on super high definition 4K monitors. But if you're using USB-C to HDMI with a normal HD monitor that's not 4K it'll work normally.
Factors to consider when choosing a USB C to HDMI adapter
Do I need more than just a USB-C to HDMI adapter? Plenty of devices like new Macbooks or Chromebook Pixels only ship with USB C ports while you may have other peripheral devices that don't have USB C cables and require the old legacy USB type A ports. So if you're in that camp (and many people are) you may want to get a multi-port adapter for your laptop so you'll be able to do more than just convert USB C to HDMI. Additionally, if you're frequently in need of USB type A ports to charge your phone or plug in other devices at the same time, you might want to consider a USB C hub with multiple USB A ports instead of just one.
Length Most of these USB C to HDMI adapters are just short dongles but if you need a long cable you might want to consider the black 10 foot HDMI to USB C from the list above.
Color Some people are more concerned about matching the color of their laptop to accessories like hubs, adapters, and dongles than others. If you're picky, this will be a factor to consider when choosing which USB type C to HDMI port hub you select.