The Apple Pencil works great with the iPad pro, but to charge it you need to plug the pencil directly into the Lightning port on the iPad itself, which is both awkward and looks pretty silly. Plus, depending on what type of environment you're in, charging your Apple Pencil at such an unnatural angle can also cause a problem if something brushes up against the Apple Pencil it could snap off, damaging both the iPad Pro and your stylus. Apple hasn't provided a solution to this odd charging problem but luckily, there are now some third party iPad Pencil charging cables so you can plug your Apple Pencil into the iPad and not feel (and look) totally dumb doing it. You can use this as an Apple Pencil charging cable, and you can also use it as a Lightning cable extender, depending on the length of the Lightning charging cable you choose.
Here are several different length Apple iPad Pencil charging cables, ranging from short Lightning cables to long Lightning cables:
Short Apple iPad Pencil Charging Cable
This very short 3.5 inch Lightning cable dongle will plug into your iPad's Lightning port on one end and your iPad's Apple Pencil on the other to charge it. This Apple Pencil charging cord is flexible and comes in white, matching your iPad's other cables, like the USB charging cable that Apple makes. Using a charging cable like this one helps save you from having your Apple Pencil plugged into your iPad at an uncomfortable angle that might snap off and damage the pencil or the iPad's Lightning port or both.
The Medium Length Apple iPad Pencil charging cable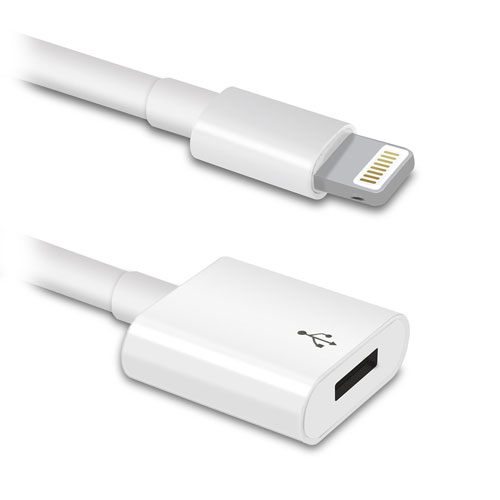 Here's another male to female Lightning cable to charge your Apple Pencil or other Lightning port accessory. This Apple Pencil charging cable measures 1 foot in length and can help you prevent accidental snap off damage to your Apple Pencil while it's charging.
TechMatte Apple Pencil Lightning Cable Charging Adapter for iPad Pro Female to Female Connector (.75 Inches)

If you've got an iPad Pro that you use with your Apple Pencil, then you already have a Lightning charging cable that came with it to charge your tablet, right? Well if so then you can use this female to female adapter to turn that 3 foot long iPad charging cable into a Lightning cable. This is a pretty clever and inexpensive product that lets you use the cable you already have as a charging cable. One nice thing about this Apple Pencil charging cord adapter accessory is that it saves you from having to carry around two cables with you (one iPad charging cable and one Pencil charging cable).
The Long Apple iPad Pencil charging cable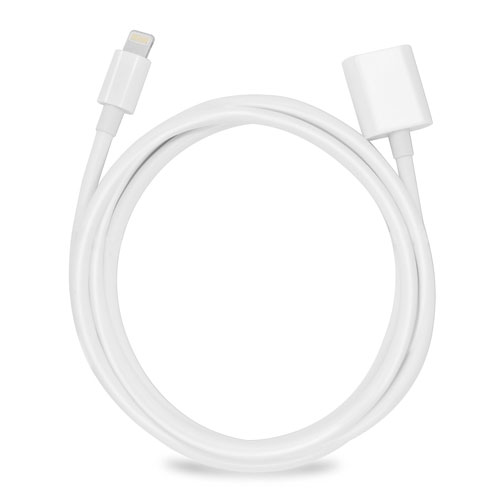 Need an even longer Apple Pencil charging cable? Well, here's a 3 foot long charging cable for your Apple Pencil. Like the other models, this one comes in white and matches your iPad's normal charging cable. Its length also allows you to separate the pencil from the iPad by several feet, which could be especially handy if you use your iPad pro on an iPad Pro stand.
Charging Dock Station for Apple Pencil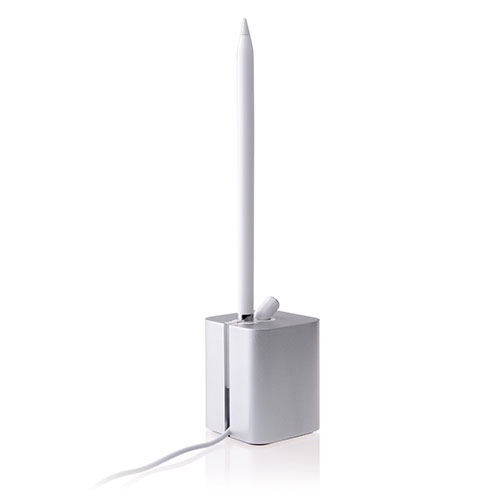 Here's an Apple Pencil charging dock that allows you to put a Lightning charging cable (not included) into the base of it. Note that you'll need to supply your own Apple Pencil Lightning charging cable: we'd recommend picking this 3.3 foot long one. Comes in white, which goes well with your white Apple accessories.
Apple Pencil Direct Charging Stand with 6 Ft Cable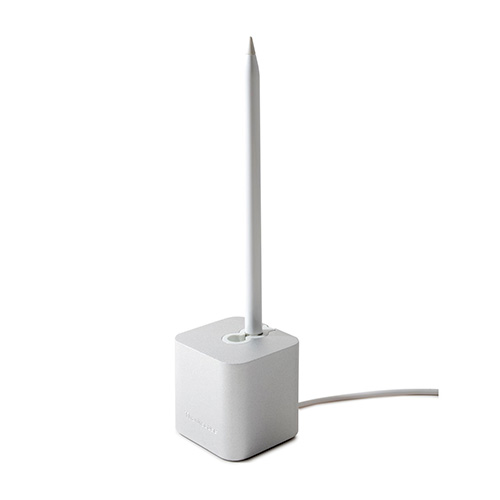 Here's an Apple Pencil charging stand that includes a generously-long 6 foot USB cable to plug into your computer or a USB wall charger. It comes in white, matching your Apple Pencil, as well as black, gold and rose gold. This Apple Pencil charging stand also includes a handy indentation to stick the pencil cap in when you're charging it.
Frequently asked questions about Apple Pencil charging cables
Are these "official" Lightning cables made by Apple?
No, for some strange reason, Apple does not make an official Lightning charging cable for its Apple Pencil themselves. These products are made by third party vendors that make accessories for iPads, like cases, charging docks, iPad stands, etc.
How can I see the remaining battery life of my Apple Pencil?
You can check your Apple Pencil's battery life on your iPad Pro by accessing the Notification Center (in the lock screen of your iPad).
Can I get a replacement Apple Pencil cap if I lose mine?
Yes! There are a number of replacement Apple Pencil caps available on Amazon, including some that have little keeper cords that prevent them from getting lost.
Are there any Apple Pencil alternatives that don't require charging?
Yes, there are some iPad styluses on the market that do not require charging. You can check out our reviews for iPad Styluses and Apple Pencil alternatives to see the best ones.