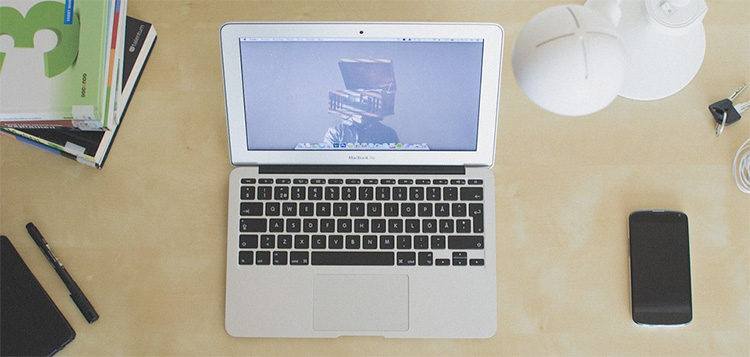 Apple's new Macbook and new Macbook Pro and Google's new Chromebook Pixel are thinner and lighter than ever but all that downsizing comes at a cost: there are now fewer ports on these machines than ever before. So, what do you do when you don't have all the built in ports you used to? A slew of new dongles and adapters are available for these new laptops with USB Type C ports and little else. Here are some of the most important USB C adapters out that every new Macbook and Chromebook Pixel owner should consider purchasing.
Most important USB C adapters for Macbook and Chromebook Pixel Owners
USB C to USB Type A Adapters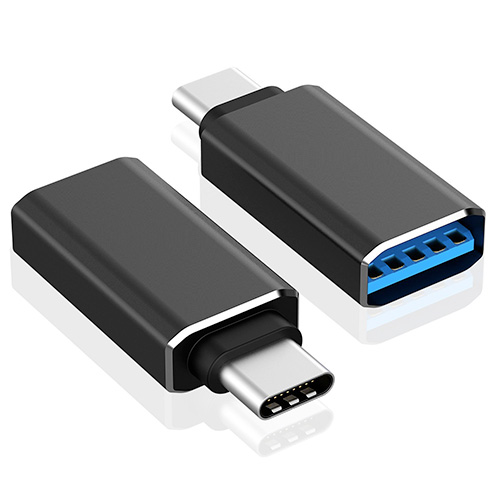 USB Type C to Type A Adapter Dongle (2 Pack)
As anybody that's ever tried to plug anything into a new laptop knows, the world of computer peripherals is still stuck in USB Type A land (the old legacy connector), even while our computers have moved on to the new, thinner and faster USB Type C spec. So just about every Macbook Pro or Chromebook Pixel owner that ever needs to plug anything into their laptops will need a USB C to USB A adapter.
This two pack of USB-C to USB-A adapters allow you to plug in external hard drives, keyboards, wired mice, printers, scanners and a whole slew of other peripheral devices. Works with the new USB 3.0 high speed transfer specification.
Article continues below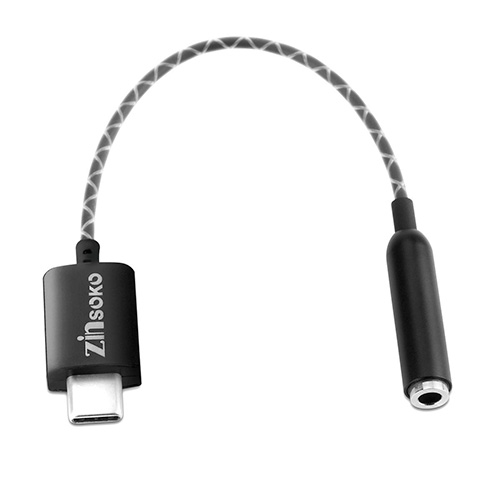 USB C headphone port
As more and more devices are abandoning headphone jacks, USB C to headphone jack adapters may become increasingly necessary to use your wired headphones with various devices including new laptops and cell phones with a USB C port but no headphone jack. This USB C to headphone adapter provides headphone jack attached to a durable anti-twist cable. Compatible with laptops, tablets and phones, like the Huawei P9, LG G5/Nexus 5X, Microsoft Lumia 950/950XL, HTC 10/Nexus 6P, Alcatel Idol Series, Nubia Z11/Z11 mini and more.
These new laptops often have less overall ports than ever before so you might find that being able to convert just one port to USB Type A isn't enough to use all of your devices– especially if you're using one of your USB-C ports to charge your laptop. So if you're in need of a lot of ports this USB C to A hub might be exactly what you need.
It converts a single USB C port into three normal USB A 3.0 ports, plus gives you an HDMI port to connect to an external display at up to 2K resolution. Plus it's silver, matching the aesthetic of many of the new laptops such as the Google Chromebook Pixel and the new Macbook and Macbook Pro laptops from Apple.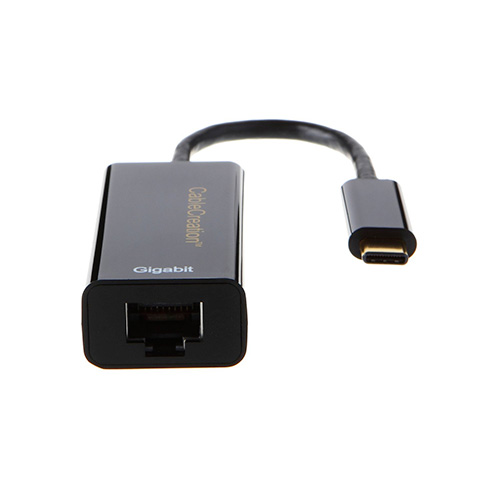 USB Type C to Ethernet Adapter
Wifi doesn't exist everywhere and even in places where wireless internet is available it's often not as fast as plugging your laptop into an Ethernet cable connected straight to the network. Unfortunately virtually zero laptops shipping with USB C ports today also offer Ethernet networking ports. This USBC to Ethernet adapter solves that problem by converting one USB C port into an Ethernet port. Capable of up to gigabit speeds, if the network you're plugging into can provide that. An LED status light will appear indicating network activity.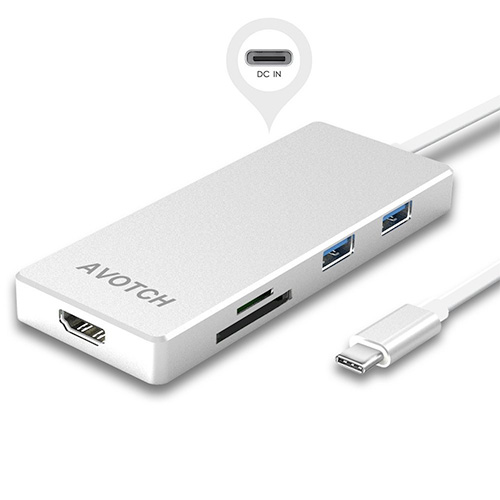 USB Type C to Multi-port Hub
Apple's older pro laptops offerred SD card slots, USB ports and HDMI outputs. This hub restores all that functionality and more by converting a USB C port into two normal USB A ports, an HDMI output to connect to external monitors or televisions or projectors, an SD card slot for reading camera memory cards, a micro SD card slot (also called Trans Flash or TF), and even an additional USB C port to replace the one that you're using up, which you can use to connect additional peripheral devices or recharge your laptop. Works with Apple Macbooks, HP Pavilions, Dell Venue Pros, Alienware, Lenovo Yoga, Chromebook Pixel, and many other laptops with USB C ports running Mac, Linux or Windows.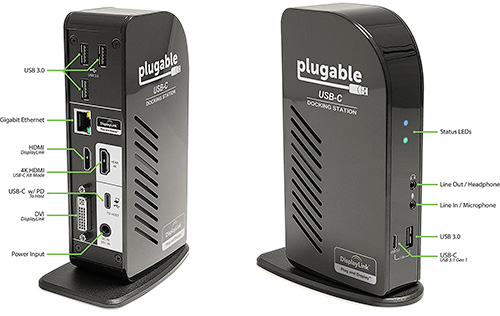 USB Type C Docking station for Laptops
Perhaps you're noticing a trend with this list: each USB C adapter seems to have more and more expandable options than the last. Well, this one just about takes the cake. It's a USB C docking station for laptops like the Chromebook Pixel or the Macbook Pro and it offers a ton of expandability. For pros that work with a laptop from their desk, this might be just about the ultimate USB C adapter. Here's what it offers:
A headphone port
A microphone input
1 USB 3.0 port on the front and 3 more on the back
1 USB C port on the front to replace the one you're taking up by plugging this in
Gigabit Ethernet port
2 HDMI outputs to connect to external displays (one of them capable of 4K video)
1 DVI port to connect to legacy monitors
1 USB C port on the back to recharge your laptop via USB C passthrough charging
Wow! That's a lot. Works with Macs, PCs runing Windows and Linux.
Frequently Asked Questions about USB C Adapters
Can I recharge my laptop via USB C?
Generally speaking, yes. Laptops that offer USB C ports often include the ability to charge via any USB C port. If you connect a USB C dongle adapter that provides other types of ports including a replacement USB C port that makes up for the one you're using to plug it in, often that USB C port will provide what is called charge through ability, meaning you can plug in the laptop's power adapter to that port and it will charge your laptop. Manufacturers of these adapters will generally say whether or not their device supports this ability or not.
Can I recharge my device using the USB Type A port on my USB C adapter?
It depends. Virtually any USB C adapter or hub will allow you to charge a cell phone or use a bus powered external hard drive via a USB A port. Some adapters will not charge larger devices like iPads or other tablets, or multiple phones or external hard drives at once because the amount of power provided is not adequate to charge it quickly.
Will this USB C to HDMI converter support 4K video?
It depends. Some USB C to HDMI adapters support 4K video and some don't. That sounds simple enough but even adapters that support ultra high definition video don't support it at 60hz per second, meaning for some uses like gaming it may be a seem jerky. Be sure to check exactly what the manufacturer says about the 4K HDMI abilities of their devices if that's important to you.
Related USB C Adapters and Accessories:
USB Type C Data Sticks, Thumbdrives, USB-C Flash Drives, and USB C Keys
The Best USB C Adapters for the new Macbook & Macbook Pro, Chromebook Pixel
Best USB Type C to Normal USB Type A Adapters
USB-C to Headphone Jack Adapters for Cell Phones, Laptops & More