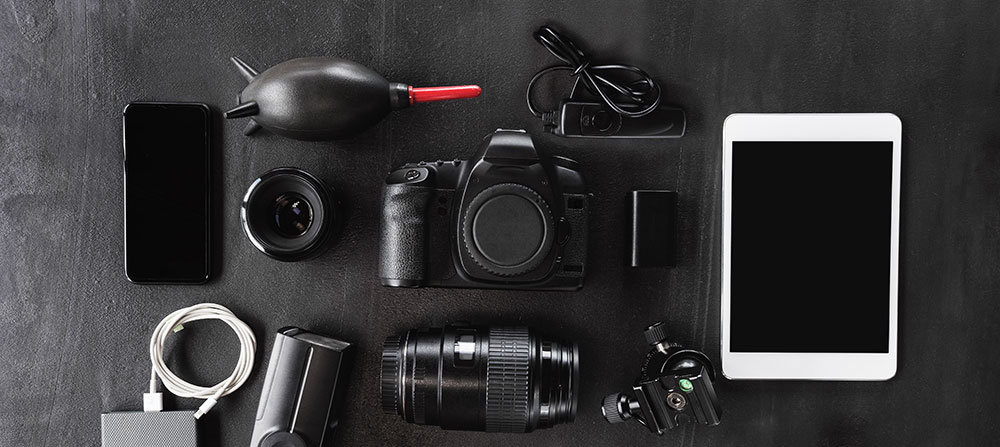 iPads and iPhones are quickly becoming full-fledge computing platforms. One thing that's holding them back is their lack of ports however: even the beefy iPad Pro famously has just a single Lightning connector port and a single headphone 3.5mm jack built in. The good news is there are more and more adapters for iPads and iPhones which allow you to extend their capabilities to connect cameras, wired internet, televisions, projectors, keyboards and more. We've rounded up some of the most useful iPad adapters and iPhone connectors.
So let's jump in and connect some neat stuff to your iOS devices.
USB, Camera, Ethernet, & TV adapters for iPads and iPhones
Apple Lightning to USB Camera Adapter
This is one of the original iPad adapters made by Apple themselves. It plugs into your iPad or iPhone's Lightning port and offers you a normal USB type A port in exchange. When you plug in this USB adapter for iPad/iPhone you can download photos from your DSLR or other camera by plugging it in just as you would plug it into a computer with its USB cable. You can also plug in a limited set of other USB devices like physical keyboards for typing faster than the on-screen software keyboard that iOS devices have. It's also possible to plug in musical instruments like USB-connector MIDI keyboards to play music with the GarageBand app.
Apple Lightning to USB Camera Adapter
Here's a neat iPhone/iPad adapter. It's a camera memory card reader for iPhone/iPad. You can plug it into your iPhone or iPad and read images directly off of your camera's SD memory card or micro SD card (sometimes called a TF card). One other neat trick this device has is a normal USB type A port on the other side so you can also use it to read memory cards on to your computer. It even has a fold-out micro USB adapter which lets you plug it into various Android devices that have a micro USB port. If you need to transfer images from a memory card on to a variety of devices, this might be a great choice.
Note that this iPad adapter won't allow you to connect an iPad to a computer– for that you'll need a regular old Lightning cable. (See our related articles: The Longest Lightning Charging, Sync Cables for iPhones & iPads and The Best Short Lightning Cables for iPhones & iPads.)
Lightning to Ethernet Adapter For iPhone/iPad
If you've ever tried to use an iPad or iPhone in a place with terrible Wifi or poor cell signals, you may have thought to yourself "boy I wish I could just plug this thing into the wall to get internet!" Well, with an iPad to ethernet adapter such as this one, you can exactly that. It plugs into the Lightning port found on your iPhone or iPad and provides you with an Ethernet port on the other end. The iPhone adapter cable is 3.3 feet (1 meter) long, and comes in silver. Of course you'll also still need to supply your own ethernet cable to plug into your router or wall-based ethernet outlet. See our related article: Best Short, Medium and Long Cat 6 Ethernet Cables.
Lightning to VGA Adapter for iPhones, iPads
The VGA standard for projectors and external displays was introduced all the way back in 1987. (Heck, it might even be older than you are!) But still all these years later VGA connectors are common to find for projectors and external monitors. If you need to connect your iPad or iPhone to a device like a projector that only has a VGA input port, you'll need a Lightning to VGA adapter like this one. It connects to your iPad or iPhone's Lightning connector and provides you with two ports at the other end: a VGA port and a second Lightning port to plug in your power adapter. Of course you'll still need a VGA cable to connect the adapter to your projector or external display or other device.
Apple Lightning Digital AV Adapter for Select iPhone, iPad and iPod Models
This adapter lets you plug your iPhone or iPad into an HDMI cable which is connected to a television, external monitor, or digital projector. It's simple to use: just plug it into the Lightning connector at the bottom of your iPhone or iPad and then plug in your HDMI cable and connect it to whatever device you're going to display the content on. This is a great cheap alternative to buying a more expensive Apple TV for displaying iPad content on your television.
Frequently asked questions about iPad keyboards:
Will the iPad USB adapter work with this (XYZ) specific device? iPad to USB connectors or iPhone USB adapters work with a limited set of devices. Since there are tons of different types of USB devices– literally thousands– there's no way for us to say for sure whether or not this adapter will work with specific devices. If you're unsure whether or not a device will work we recommend you do a Google search to see if you can find other people talking about that particular USB accessory working or not working with a USB to Lightning adapter.
In general people seem to have good luck attaching external keyboards, still cameras, and musical instruments with MIDI outputs. Some other devices may work as well. For some (admittedly a little outdated) examples, see this 2010 Macworld article: iPad Camera Connection Kit connects other things, too.
Do I need to install any special software to make these adapters work with my iPhone or iPad? No. All of the iPad to USB or other types of iPhone adapters listed on this page don't require you to install any special software or drivers. (In fact, iOS doesn't even have drivers!) It's just plug and play for each of these Lightning adapters.